Gold rate in mumbai
What is Today's Gold Rate in Mumbai?
Ever since the price of gold began to increase significantly since the last couple of years, this question,
"what is the gold rate in Mumbai today?"
has been on the tip of the tongue of almost everyone in Mumbai, if not the whole of India!
Although there are many resources online that claim to provide the current Gold Rate in Mumbai, they usually do not answer our 'what is the gold price today in Mumbai' question very effectively!
Why?
Let me explain.
Whenever we (note: by "we", I mean Mumbaities) search in Google or any other search engine for the latest
gold rate in Mumbai
or some other related gold query, there is a chance that we are presented with:
1) The fake current gold rate in Mumbai which is actually the commodities market rate. A rate that is next to useless for us "non-market" people.
2) Or we are shown "gold rate in Mumbai" but if seen in detail, it usually of western nations and in USD's. Again, useless for us.
3) Or finally, we are shown the wholesale price index of Gold, meaning, an absurd low rate that NO ONE is going to get gold at!
Problem?
Our question in subject, "what is the gold rate in Mumbai today?" remains completely unanswered.
We are confused, frustrated with no 'relevant', to the point answer to our question. 99% of us are not interested in "hypothetical gold rates" that apply to an unknown market or a foreign country. What we are interested is pretty simple.
"Just show me the current gold rate at which I CAN BUY GOLD RIGHT NOW IN Mumbai!"
And unfortunately, in reality, there are less than a handful of such websites in the world that will actually show you today's "applicable" gold rate, the rate at which one can immediately buy gold at.
But fret not, that's we are here!
Book Your Gold is the
world's first service
where you can not only know what is the gold rate, but also see historical gold rates!
And all of it right here in Mumbai.
Anyway, all kidding aside, here you will also be able to invest in the highest purity = 99.9% gold coins and bars, and all at the live gold rate shown, applicable IN Mumbai, without any hidden charges like "delivery charges", or "handling charges", etc.
In short, you ask us what is the gold rate today in Mumbai?
We reply THIS is the gold rate today in Mumbai. No hidden games, no add-ons, no extra-taxes-added-later.
Here, at book your gold = what you see is what you get!
Another questions that usually runs through our mind when we want to know what is the gold rate today is whether 'buying now' and not later, actually makes sense. Is it the right time to buy gold? And again, we are back for a roller coaster ride with thousands of "expert financial websites" making all types of claims right from saying that Gold will fall back to around Rs. 10000 per gram, and some saying that it will escalate right in the league of 40000′s.
What should we, the person who wants to buy gold right here, right now should do? Which expert is right? What site is credible?
And with all those questions, the inevitable happens…
We do not take an action. We do nothing.
We just tell ourselves I will buy gold this weekend, next weekend, so on and so forth.
Ultimately, it is 6 months later, the
rate of gold
has increased exponentially, and you are still stuck saying you will get it this weekend!! WHAT DO WE NEED THEN? We Mumbaities, ultra busy Mumbaities need a system, facility to invest in gold on a regular basis. We need some sort of "gold buying automation" which will book gold on our behalf at current rates, and remove the principle question; what is the gold rate in Mumbai today out of our minds! BUT IS THERE ANY SUCH SYSTEM IN INDIA? There is! NOW there is! Book Your Gold brings to you India's most powerful pure gold saving and investing system. Using book your gold's system, you can: • Invest in as much gold as you decide every month. • Here's an example. Let's assume you decide to invest Rs. 13000 every month in gold, ok… • Book your Gold's system will divide your monthly amount in 26 equal units (13000/26 = 500 daily) and book pure, 99.9% gold of Rs. 500 daily, at daily gold rates in Mumbai! • Meaning you get the advantage of daily gold rates with ZERO intervention, without worrying about "what is the gold rate in Mumbai today" and without worrying whether you will be able to visit the local jewellery shop this weekend! • In short, this is India's first and only complete automated gold saving system, with FULL advantage of daily gold rates and movement to YOU. • It means NO paying for 12/14/20 months installments in advance and then… getting gold at next year's higher gold rate! • Plus, ZERO compulsion of buying jewellery at maturity! • And ZERO need to intervene and check the gold rate daily as we prominently display the rate on each page of our site. Additionally, you can also set up email or sms alerts to notify you about your account activity on a daily, weekly or monthly basis. To start booking your gold and remove the 'what is the gold rate today in Mumbai' question and problem out of your life forever… Start our "no obligation", FREE 15 days trial where you can setup your free account, decide an amount to book monthly (demo, you won't pay anything) then see how we book your gold, and get a hang of the system. No credit card information or any payment required. It's a free trial with all the features, and with ZERO obligation and ZERO risk to you. All the best, and keep saving gold! It is only going towards the stratosphere in the coming years! Incoming searches:
gold rate in mumbai today
gold price today in mumbai
bombay bullion prices
So, what IS the gold rate in Mumbai today?
You can see the live 24 Carat Gold Rate in Mumbai right at the top of this, and every page on our site.

What's the purity of 24ct gold? What is 22, 23ct gold?
Carat (or karat) in gold signifies the purity of gold in a gold alloy. Here's a list of popular gold carats used in Mumbai:
24 carat Fine Gold = 99.99% gold content (purest form of gold!)
24 carat Standard Gold = 99.95% gold content
23 carat gold = 95.8% gold content
22 carat gold = 91.6% gold
18 carat gold = 75.0% gold
14 carat gold = 58.33% gold
What's the Indian BIS Hallmark Scheme?
Short answer: The BIS Hallmark is to gold what the "ISI" mark is to most electronic appliances.
Meaning, it's the government's mandatory scheme for jewellers, to keep a check on gold purity in 18,22,23ct jewellery. The customer is guaranteed peace of mind with exact gold purity, and the jeweller/seller is bound to maintain gold of the exact carat mentioned. In Mumbai, the hallmarking scheme has been made mandatory now! So DO NOT buy any gold jewellery without a hallmark.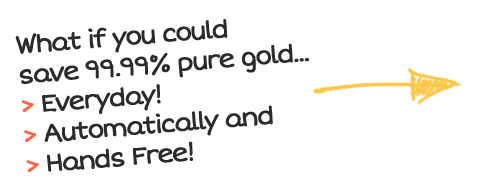 How can I invest in pure gold
on a regular basis?
Bingo! That's where we come in the picture. In less than a Month from now, we are launching a one-of-a-kind gold savings system that will:
Automatically save gold for you… every day
The gold saved for you will be of 99.99% purity
Once you have saved gold above the per-determined threshold, you can request for the delivery of sealed packed, tamper proof 99.99% gold coins.
The best part? While your gold is saved every day, You WILL NOT have to login, or click buttons everyday, etc. Your gold will be saved on full automatic mode!
Our FREE TRIAL has launched! You can test drive our "automatic gold saving" system now!
Here's How It Will Work, Step by Step…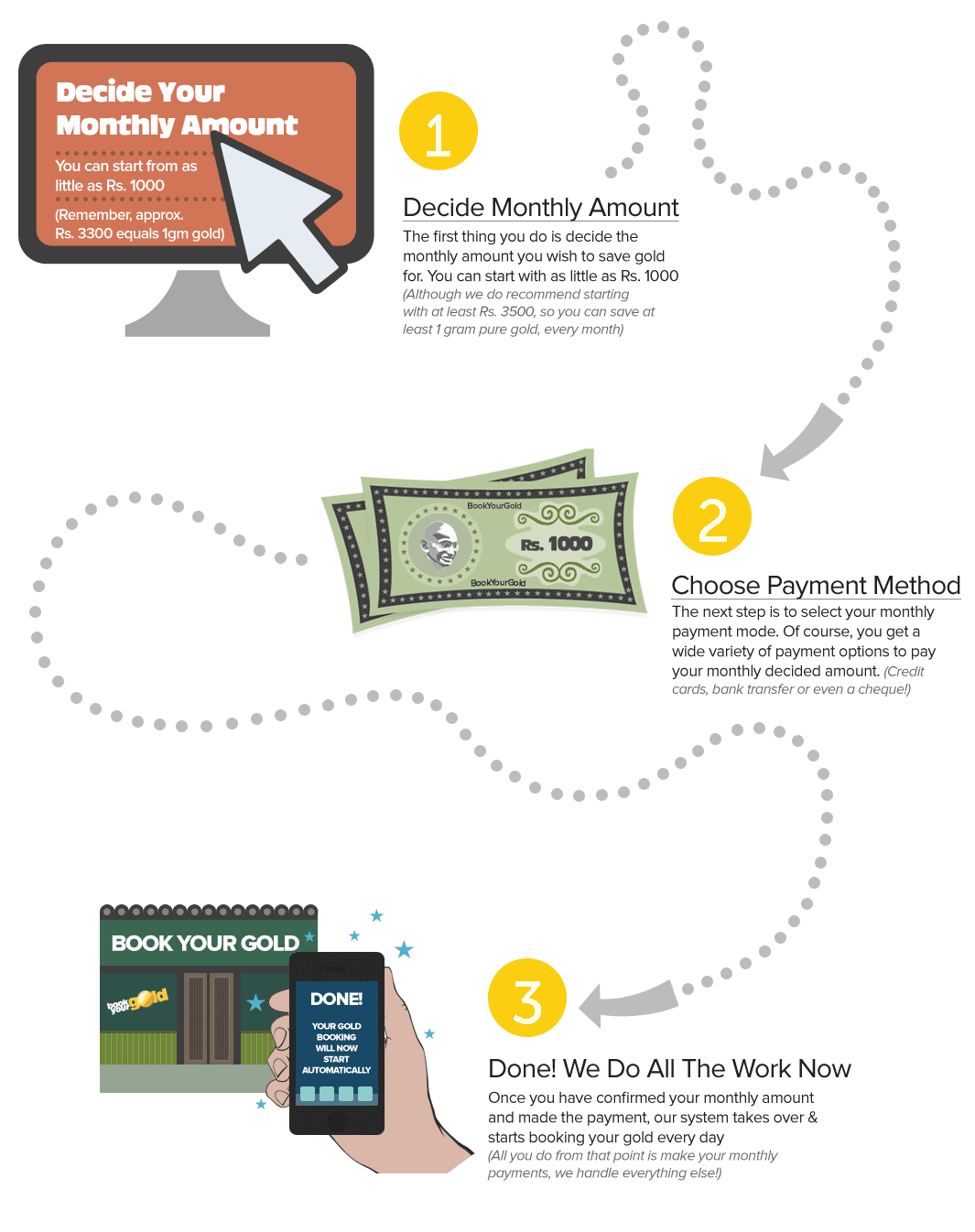 Start Your 15 Days FREE TRIAL Now!

START YOUR 15 DAYS FREE TRIAL