for the 1st time in india, you can now save 24ct gold…
everyday… automatically!
how? what is book your gold?
Book Your Gold is an online service that lets you buy and save pure, physical gold every day,
automatically
, with full control from your very own account dashboard.
Anyone with just
Rs.
1000/month can get started and begin saving real, physical gold…
every day
!
Watch How It Works
No payment, No obligation! Just sign-up for the 15 days
Free Trial
& see how pure gold is saved for you every day… without you needing to do anything!
START YOUR FREE TRIAL
i wish to know more…
how does it work? how can you save gold "automatically"?
1First of all, you decide the amount that you wish to save gold for, every month. You can start saving gold for as little as Rs.1000 every month.
2Next, our system divides your monthly amount in equal daily parts, as per the number of working days in the given month, of course, automatically!
3Finally, from the very next day, our clever gold saving "robot" gets busy and starts saving gold for you, every day, at daily gold rates, and (this is getting repetitive…) automatically!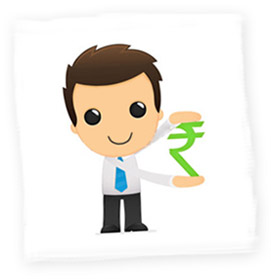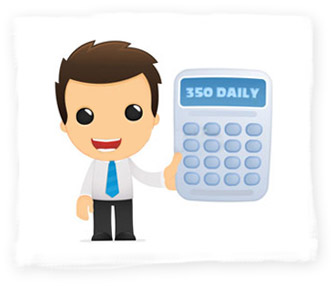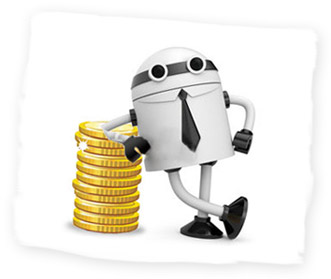 is our gold rate the best?
Here's the place we should toot our own horn and say, ".. You won't get a better gold rate than us, it's the lowest… blah blah blah.."
But we actually say blindly believe us NOT!
Instead, compare our gold rate every day with GJF's [All India Gems and Jewellery Federation] recommended all India daily gold rate for India bullion and jewellery merchants.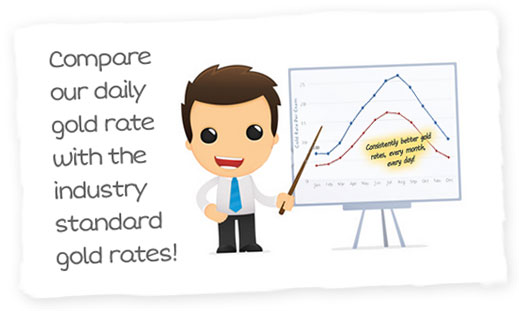 Every time, every day, our gold rate is less than the GJF's all India gold rate, or any other gold rate anywhere in the country.
You know what… do this right now
Compare our Gold Rate!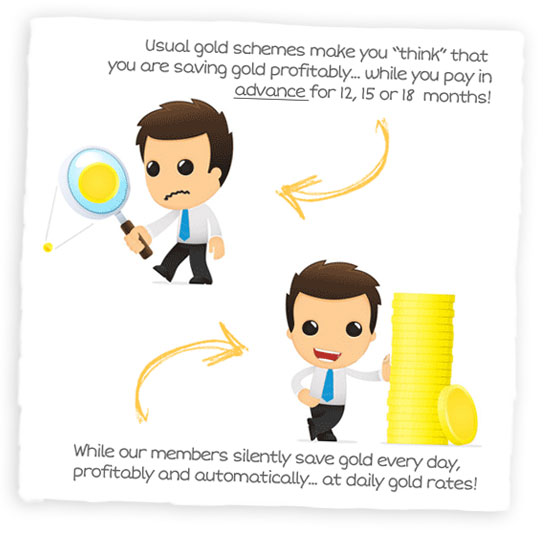 What About Monthly Gold Schemes?
Those schemes are like that big elephant in the room, nobody notices the inherent problem with them…
Monthly Gold Savings Schemes take your money in advance for 12/15/18 months.
Then they give you jewellery (not pure gold) AND that too after 12/15/18 months AND at the gold rate prevailing at maturity!
Huh? Pay first? Then get gold after 18 months? At the gold rate after 18 months?!
Are we the only ones finding this incredibly wrong?!
Well, that's we started this revolutionary system. With us, you save gold every day.
As the gold rate gradually increases, your cumulative profit increases! Simple. We like simple.
how will you know how much gold you've saved?
Once you sign up, you will get your very own account dashboard where you will be able to see:
Your daily gold saved with the applicable gold rate
Your monthly gold saving amount, daily gold saving amount
The gold saving calender, the day's on which gold is/is not saved
Your gold saving report with full date-wise details
Requesting tab for delivery of your gold (coins)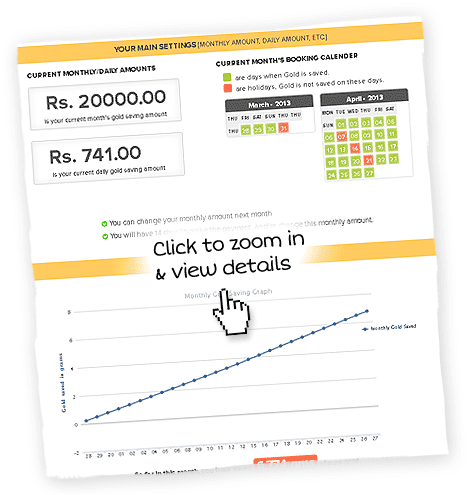 See How It All Works

see how you can save gold every day